Single Deck Blackjack Pro
There is nothing that quite compares to the thrill of playing a classic table game and Blackjack may just be the most popular of them all. Sometimes known as 21, it is perhaps the easiest of all table games to play. The rules are straightforward. Blackjack has even inspired other popular games such as Pontoon and Spanish 21. Here, we're looking at Single Deck Black Pro. It is an online version of the hugely popular single deck variation of blackjack by Net Entertainment.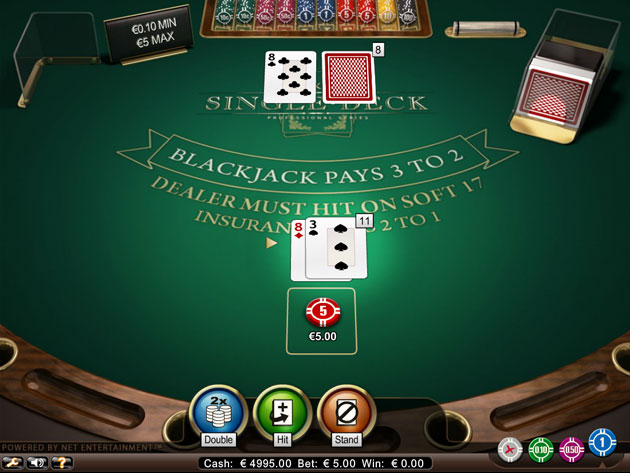 About the Developer
Net Entertainment is very prominent in the online gaming world. The firm has a fantastic reputation when it comes to building slots. From what we can see, their casino games are built to just as a high standard. We always look forward to their new releases.
About the Game
Single Deck Blackjack Pro plays with just one deck, as you may have guessed from its name. You'll be playing solely against the dealer.
In any game of blackjack, the aim is to use your cards to get as close to 21 without going over. Each card that you are dealt has a value. For numbered cards, this is the number that it displays. Faced cards are all valued at 10. The Ace can be played both as a 1 and as an 11. If you use an ace as an 11 then your card value will be described as a soft total, i.e. a soft 16. Play an ace as 1 and it will be referred to as a hard total.
Upon first opening this game, you'll be required to place a bet. This can be anything from £1 to £40. NetEnt has included a cool feature where you can manually select your chips and lay them on the table, just as you would in a land based casino. As soon as you've decided on your bet, hit deal to begin playing.
You'll be dealt 2 cards. The dealer will deal himself 2 cards also, with only 1 left face up. You must then decide whether you want to hit or stand. You can also choose to split your bet, giving you 2 separate hands. Splitting your hand will double your bet. The aim is to get closer to the number 21 than the dealer, without going bust.
After the outcome has been revealed, you can choose to rebet or place a new bet. Insurance in this game pays 2 to 1, with blackjack paying 3 to 2. The dealer must also hit on soft 17, which increases the odds of the player.
Verdict
We enjoyed Single Deck Blackjack Pro. It's straightforward, which we like. Even if you've never played blackjack before, the instructions are easy to comprehend. The range of bets is not the highest that we've seen. However, players can still land a pretty big payout with the top bet per hand so high-rollers should still take a look. The fact that the dealer must hit on a soft 17 decreases the house edge, giving you an advantage. If you're new to table games, we'd definitely recommend this game.