Starburst
Starburst is one of the most famous slot machines on the web with its bright colours and precious gems. The game is available on almost all major online casinos and has become the benchmark for successful slots. The game has some good bonus features and the chance to win some big jackpots. It is a timeless classic and we have all the details of how you can play.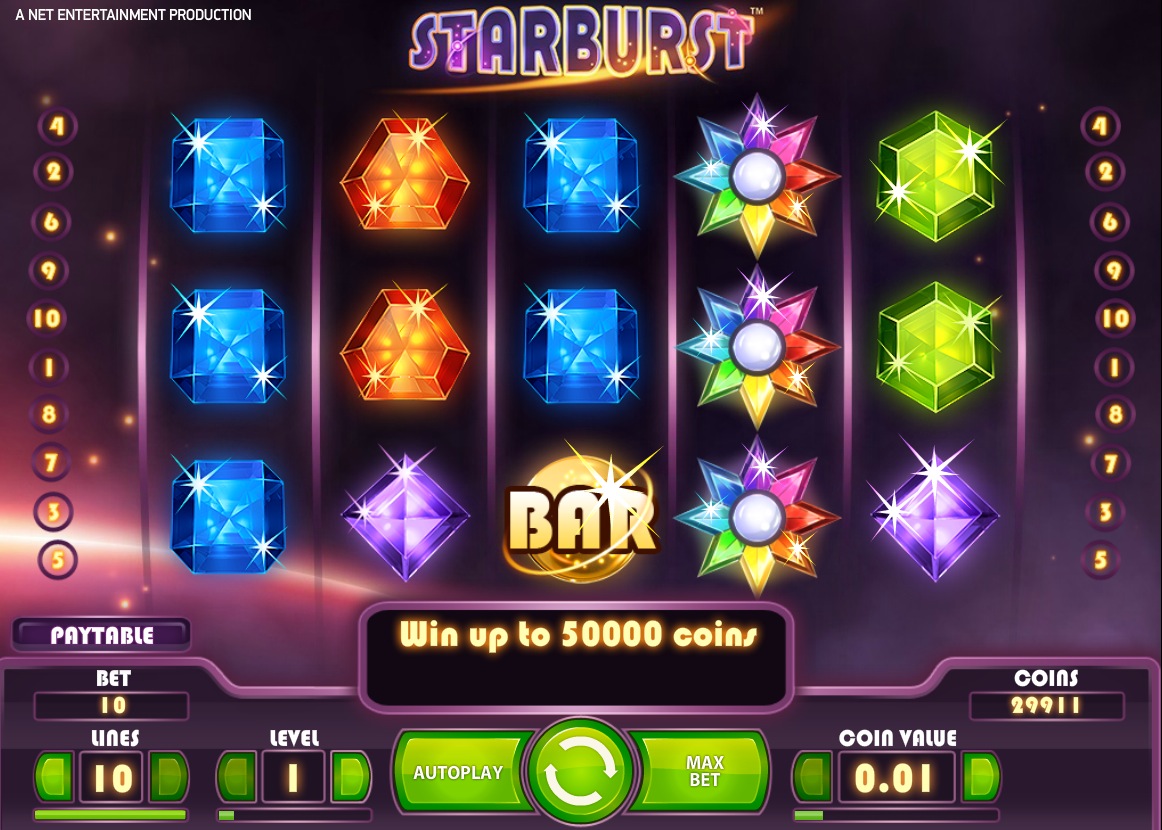 About the Developer
The game has been created by casino heavyweights Net Entertainment. The developers are well respected in their field and have a massive array of successful high-quality slot games. We always enjoy playing games by Net Entertainment because they are well-designed, easy on the eye and perhaps most importantly, they are loads of fun!
About the Game
The game is structured as a 5 reel slot machine with 10 main pay-lines which are pretty consistent with Net Entertainment's older instalments. The game doesn't have a definitive theme and keeps things simple with its black background and jewel encrusted game interface. It is simple but so effective at providing a fluid and enjoyable gaming experience.
The game can be played on free mode so you can test the content and quality of the game before placing a bet for real money. Once you are ready to place a stake you can do so by clicking the coin interface to increase and decrease your bet. You can bet from a tiny penny all the way up to a maximum £100 if you increase the lines per spin. This offers good variety for players of all budgets.
You have probably guessed that we really enjoy the simplicity of the games design. The game uses various precious looking jewels for the core of its reel symbols and there are a number of colours including purple, blue, green, orange and yellow as well as the classic bar symbols. The sound effects are cool and work well with the game overall however, they can be turned off for those that prefer to play with the sound off.
The game offers some compelling bonus features to keep things fresh and entertaining. First and foremost, the Starburst symbol is the wild symbol which substitutes for most other symbols on the reel and thus allows players to pick up more winning combinations so keep an eye out for it. You may notice that there are not too many symbols in total but this can work out well as it means they pop up more often and result in more wins which helps combat the issue of only having ten pay-lines. Additionally, if you land blocks of symbols such as 4 in a square shape then you will also win a prize. This allows the player to win jackpots from all sorts of unusual symbol combinations and is gives the game a bit of an edge.
Verdict
Overall we find this game quite addictive due to its simple gameplay and the unusual ways in which you can pick up winning combinations. It lacks bonus features because it is an older instalment by Net Entertainment but remains well loved and we would definitely recommend Starburst as it is a fantastic slot machine.