Lights
We don't really know where to start with Lights. The game grabbed our attention instantly and this is one of the best-designed games we have ever seen from Net Entertainment. The game offers a fantastic and immersive 3D experience and the closest thing we can describe it to is an oriental style game but this takes it to new levels with its artwork. While it is all nicely designed and easy on the eye, the game does back this up with enough content. We've taken the time to give an in-depth review, so that you know what to expect upon opening up this game.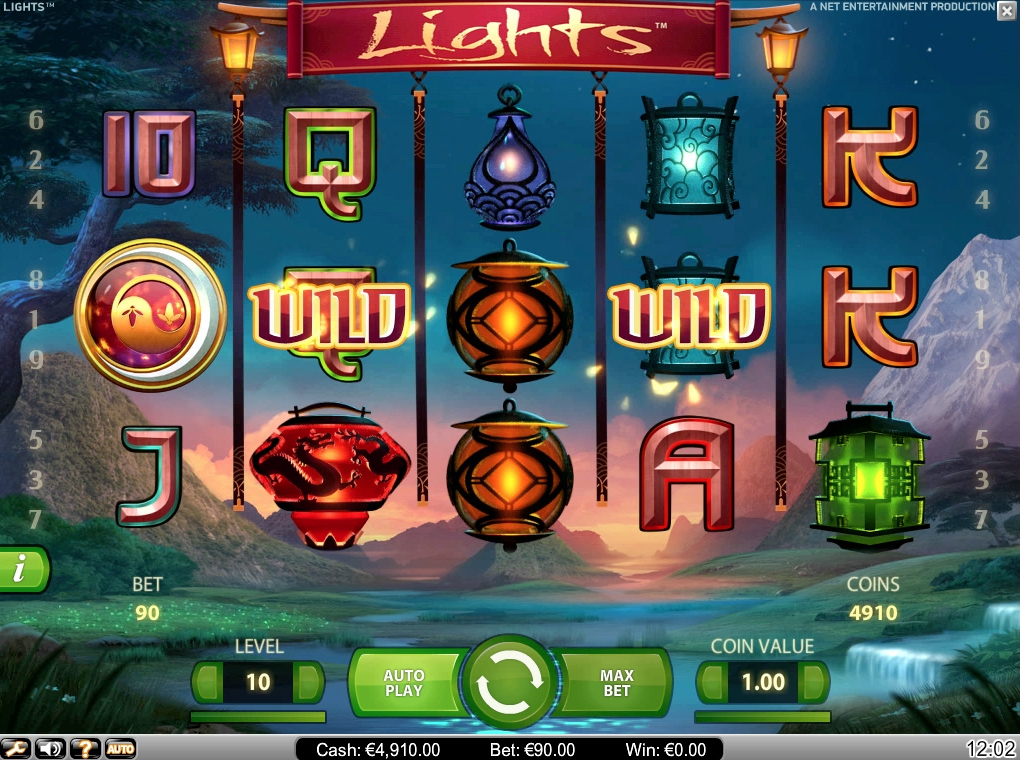 About the Developer
Net Entertainment has worked hard on this game and has paid dividends. The company has a spotless record for producing slots of a substantial quality and Lights is one of those games. We always enjoy games by Net Entertainment and all the game's features are below.
About the Game
Modern slots can sometimes suffer from clutter and have too much going on at once. What we love about Lights is that it tries to keep it simple but still provide a comprehensive gaming experience. The game has five reels and a modest nine pay lines which may seem little but doesn't seem to detract from the game experience at all. The game goes for a lights theme as you can imagine and the 3D animations are superb.
The game can be played in free mode before betting and we like to think of this as a play before you pay demo mode for newer players. You can bet from a penny per line and up to a maximum of £90, when you factor in all of the pay lines so there is decent flexibility for those on varying budgets.
The game excels because of its tranquil design with the background interface consisting of mountains with a sunset glow and a lake underneath with some fantastic animated waterfall motions. It really is breath taking and the reels contain letters and numbers and many different animated lights that glow at different intervals.
A game is only as good as its content however and Lights keeps it simple with a free spins mini-game on offer with the Yin Yang scatter symbol being the key to winning them. All you need to do is land three, four or five of the scatter symbols on the reels to receive 10, 20 or 30 free spins respectively. It is a simple feature but one of the best-loved bonuses for slot players as who doesn't love a free spin or two?
Verdict
The only criticism we have of Lights is that the game lacks bonus features but overall the game is a winner due to its flawless design and we really couldn't take our eyes off of it. The 3D animations give it strength and depth and overall we just a blast playing it. Definitely recommended for new and experienced players alike but stick to a budget as it can get quite addictive.