Gonzo's Quest
Net Entertainment has cranked it up a gear with Gonzo's Quest and this is one of the best-looking slot games that we have played. It is also one of the most popular games within online gaming community and you will find it on most online casinos. While the game has been out for a few years, it still packs a punch and brings in the customers due to its design, storytelling and good array of content.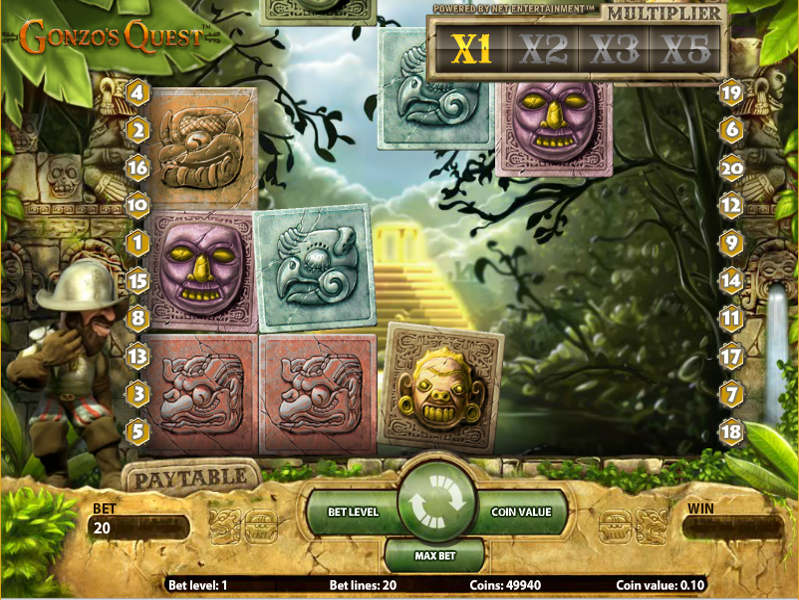 About the Developer
Most slot players will be aware of Net Entertainment's reputation as a company that consistently produces slot games of an impressively high standard. As such, you can usually always expect their games to be immersive and full of detail. Gonzo's Quest is a perfect representation of Net Entertainment's talent.
About the Game
We love a game that tells a story and Gonzo's Quest does this superbly with some nice 3D models. The aim of the game is to help Gonzo uncover some mystical treasure as you help him in his search for the legendary city of Eldorado which is based on a fictional settlement in South America. The game is structured as a five reel and twenty pay-line slot with some bonus features to boot.
With a twenty pay-line setup in place, you can bet from 20p up to a maximum of £40 so the game will suit most types of gambler. The game can get quite addictive so we recommend allocating a budget that you can stick to. All you need to do is place your bet, select your line amount and then the spin button. Easy as that!
As we mentioned, this game is all about aiding Gonzo through the treacherous landscape with lots of South American symbolism present on the reels. When you load up the game interface you are greeted by a fantastic opening video animation that sets the scene and tone for what you are about to experience. The background of the game interface consists of a detailed 3D Gonzo character who is located deep in the jungle surrounded by some ancient stone ruins. The symbols are all carvings on stone blocks in various colours and are of different values.
The wild symbol is a question mark block and the scatter is the golden "free fall" block. The biggest bonus feature is the ability to create winning combinations through the crumbling blocks that are replaced by other blocks when you create a winning combination. This allows you to rack up wins and for every win, you receive per spin, the multiplier will increase up to a maximum of 5X. The second bonus feature is the free fall game and when the bonus block appears three times or more, you can accumulate 10 free spins.
Verdict
Gonzo continues to pull in the customers and our opinion this is down to the charm of the game and its fantastic design. The game offers fluid gameplay and some good bonus content but mostly players will flock to this game because it takes them on an adventure.